[BAXTER, IOWA, October 2nd, 2023] – In a significant boost to law enforcement capabilities and community safety, KELTEK, Inc. proudly announces the first-ever KELTEK K9 Unit Grant winner.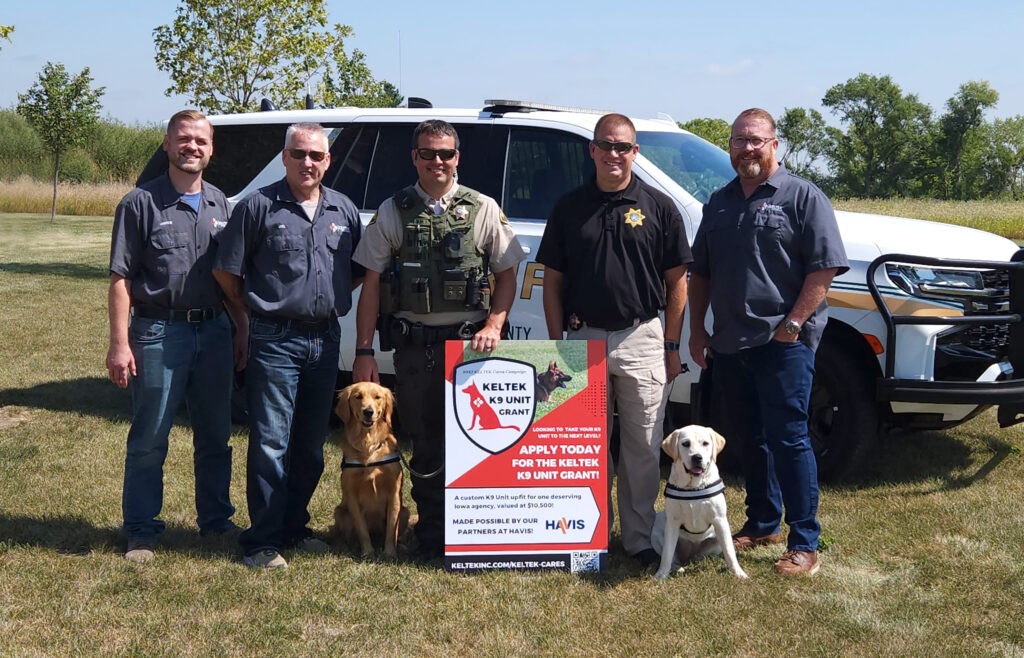 The Jasper County Sheriff's Office, in partnership with Crisis Canines of the Midlands, has been selected as the recipient of this new grant, valued at $10,500. This award marks a pivotal moment in enhancing the resources available to the dedicated officers of Jasper County and the community they serve.
The grant will provide a custom K9 upfit for their 2023 Chevy Tahoe, equipping their Crisis Response K9 team. This program is one of a kind and features K9 "Delta"- who is currently in training to become one of the few Iowa to be certified as a Therapy Dog at the Crisis Response level. She and her handler, Deputy T.J. Decker, will differ from traditional K9 units in that they are deployed for peer support to other first responders at incident debriefings and provide public aid to those affected by trauma, loss, stress, or disaster.
The team is also active in community outreach to schools and community groups to educate about mental health, helping reduce the stigma around those challenges, particularly in first responder professions.
"For our first responders to take care of us, we need to ensure we are taking care of them," said John Halferty, Jasper County Sheriff. "Providing resources for those on the front line who experience trauma and critical incidents, time and again, is a vital need. If we don't provide those resources, who will? As a strong supporter of mental health and wellness resources for our first responders, I fully endorse the crisis canine teams. This grant is instrumental in the implementation of our Crisis Response K9 program. It will allow us to expand the training of our team and has created resource availability to support other essential areas."
As an employee-owned company, KELTEK believes in giving back to those on the frontlines who help keep their communities safe. This year's KELTEK Cares campaign, the KELTEK K9 Unit Grant, is a small token of their appreciation to the men, women, and K9s who serve the larger community.
"We are extremely proud to award our first-ever grant to the Jasper County Sheriff's Office and their Crisis Response K9 team," said Larry Kolontar, President of KELTEK, Inc. "This is a truly deserving program, and we are thrilled to be a small part of helping them continue to expand their vital work within the community and beyond."
KELTEK, Inc. is an employee-owned company based in Baxter, IA, and has supplied law enforcement, EMS, and fire departments with vehicle up fitting, computers, cameras, and connectivity products for over 25 years. They joined the Rayser Holdings portfolio in 2019 alongside CarePro Health Services, Des Moines Winterset Memorials, and J-TEC Associates. To learn more about KELTEK, visit their website at keltekinc.com.
Media Contact: Emily Burds
Email: eburds@rayserholdings.com
Phone: 319-369-9634